Applicable Standards:
DESIGN & MANUFACTURE CONFORM WITH:API 6D/ISO 14313, ASME B16.34
CONNECTION DIMENSION CONFORMS WTIH: ASME B16.5 DIN EN 1092
FIRE RESISTANCE DESIGN CONFORMS WITH: API 607/ISO 10497
INSPECTION & TEST CONFORMS WITH: API 6D, ISO 5208, API 598
MATERIAL CONFORMS WITH: ISO 15156
Materials of parts
Body
Bonnet
Disc
Seat
Stem
Seal ring
Sealing surface material
O-ring
Bolt
Nut
Spring
Stem nut
Gasket
Packing

WCB/LCB/CF8M/CF8/CF3M/CF3/WC6/WC9/CD3MN
WCB/LCB/CF8M/CF8/CF3M/CF3/WC6/WC9/CD3MN
A105+ENP/LF2+ENP/F304/F316/F304L/F316L/F51
A105+ENP/LF2+ENP/F304/F316/F304L/F316L/F51
F6a/F304/F316/F304L/F316L/F51
PTFE/NYLON/PEEK/TEFLON
1~12 Trim material
VITON/NBR
B7M/B8M/L7M/B16M
2HM/8M/7M/4M
17-4PH/Inconel
C95200/D2/A536
Flexible graphite+304/Flexible graphite+316
Flexible graphite/PTFE
*Materials could be choosed according to customers' requirement & working condition.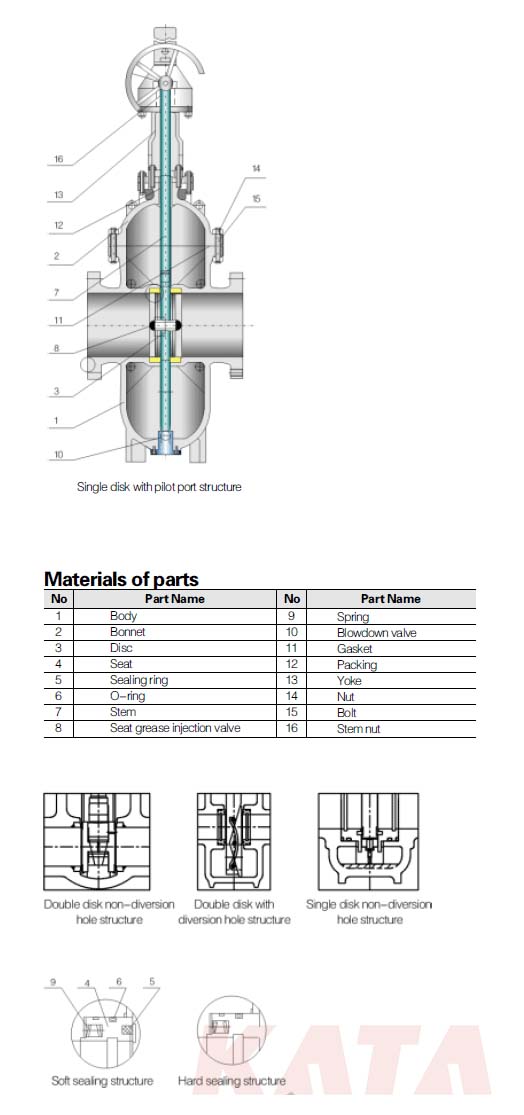 Product Features
1. Valve seat adopts the structure of O-ring seals and pretightening float valve seat, the soft sealing inlays fluoroplastic, it provides the function of double sealing: fluoroplastic to metal and metal to metal. And at the same time, the fluoroplastic can remove the dirt of the gate disk.

2. Of the metal to metal sealing, there is a grease injection structure outside the valve, grease injects the sealing part through the seat, in this way achieves the aim of zero leakage.

3. Through conduit gate valve always coincide with the sealing surface,whether the disc is full open-or fullclosd; sealing surface to be protected from scouring by media dilectly, thereby extending the service life. In fulltime, smooth channel for the direct and flow resistance coefficient is extremely small, no pressure loss, leading to Pig.